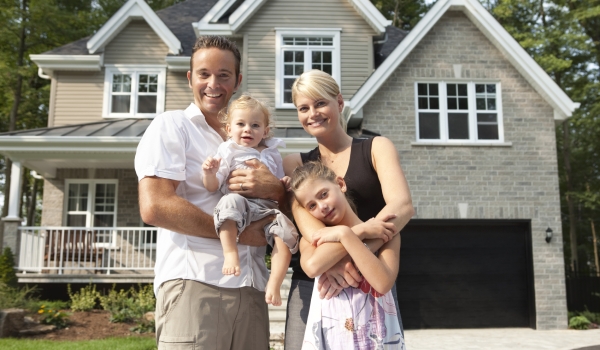 A home may be the biggest investment you'll ever make
A home is one purchase that should never elicit buyer's remorse. It's likely the largest investment you'll ever make, and arguably one of the most important. These home buying tips can help first-time buyers find a home that won't disappoint — or break the bank:
Determine your budget. Nothing is more heartbreaking than lowering your expectations after realizing you've been looking at homes above your price range. Before you even browse online, determine a cap for the price range you should be looking in to match your budget.
Budget for extra costs. In addition to the monthly mortgage payment and upfront closing and moving costs, be sure to take into account expenses like property taxes and home insurance, as well as utility charges that you may not be paying for if you currently rent. It's also smart to have a safety-net for any home improvements that will need to be made before you move into the house.
Make a (short) "must-have" list. All buyers picture a dream home that delivers everything on their wish list — granite countertops, spa showers, walk-in closets. But it can be difficult to find a home that provides all your wants and needs. To stay focused, make a list of three to five must-haves, such as a large backyard, a certain number of bedrooms or a location in a specific school district. Recognizing these deal-breakers will make it easier to resist wasting time on homes that simply aren't a good match, and help you realize the things you can live without for the right home.
Check out the neighborhood. Once you've zeroed-in on a home, take a stroll around the neighborhood. Visit on a Saturday night, during weekday rush hours, and in the middle of the day. This is the time to learn about any traffic headaches, rowdy neighbors or noise problems. For a bird's-eye view, most county auditors have online maps that can reveal potential concerns, like unusual property lines or nearby land that's zoned for commercial or industrial development. Remember that you're buying more than just a house – you're investing in a neighborhood that you plan to live in.
Pay attention to the inspection. A home inspector provides an unbiased, expert look at the condition of a home and can help identify potential costly issues like a faulty foundation, dangerous wiring or dated furnace. Any shortfalls can also be used to negotiate with the seller. Tag along during the inspection if you can or ask for a thorough debrief after it's been conducted. You'll gain valuable insight – and protect yourself.
With a little due diligence, you'll know what to look for when buying a house and can find a home that is a smart investment for years to come.